I know, choosing the right tankless toilet for your home might feel a bit overwhelming with all the options available to you today but by going through this article, you will gain some valuable insight so that you can make an informed decision when selecting from the 5 best tankless toilets of 2023!
The combination of modern design, water efficiency and advanced features these types of units offer will surely improve your bathroom experience while also being eco-friendly in nature. Therefore, let us guide you through this process so that you can find the perfect one that fits your needs.
In this article we will provide a list of the 5 best tankless toilets available in 2023, catering to different budgets and preferences. When selecting a tankless toilet, it is important to consider design and aesthetics, water efficiency, installation requirements & comfort/convenience features.
Now that we have your attention, let's get into our list of the best tankless toilet options on the market today.
The 5 Best Tankless Toilets (Comparison Table)
Preview
Pick #1
Pick #2
Pick #3
Pick #4
Pick #5
Title
Kohler Veil Intelligent Toilet
Swiss Madison St. Tropez Wall-Mount Toilet
Dyconn Faucet DF-820ZA Arial Tankless Toilet
EPLO Tankless Smart Toilet
Pick #1
Preview
Pick #2
Preview
Title
Kohler Veil Intelligent Toilet
Pick #3
Preview
Title
Swiss Madison St. Tropez Wall-Mount Toilet
Pick #4
Preview
Title
Dyconn Faucet DF-820ZA Arial Tankless Toilet
Pick #5
Preview
Title
EPLO Tankless Smart Toilet
Disclaimer: This article contains affiliate links where I may receive a small commission at no cost to you if you decide to make a purchase.
---
What are the Best Tankless Toilets? Our Top Picks
We understand there are so many tankless models online to choose from which is why we have done our best to provide you with a list of the best tankless toilets of 2023.
Our selection criteria incorporate features, performance levels, design elements as well as user feedbacks in order to help you make an informed decision that caters to all tastes and budgets!
So let's take a look at our best choices for the 5 best tankless toilets available today.
1. TOTO Neorest 700H
TOTO Neorest 700H
Water consumption: 1.0 gallons_per_flush
Cyclone siphon jet flushing system, ultra-high efficiency (1.0GPF/3.8LPF and 0.8GPF/3.0LPF)
Convenient remote control
For those looking for the ultimate in luxury, they need look no further than the TOTO Neorest 700H tankless toilet. This modern fixture incorporates a range of high-end features such as Ewater+ technology and a heated toilet seat with bidet to enhance user experience.
The dual flush system utilizes 1.0 & 0.8 gallons per flush making it a very efficient fixture thus contributing towards water conservation without sacrificing performance or hygiene standards.
Thanks to electrolyzed water that helps clean the toilet bowl, you can spend less time cleaning up after this fixture. The warm air dryer provides comfort after each use and guarantee added convenience since there's no longer an unsightly traditional toilet tank involved anymore.
Superior hygiene with TOTO's ewater+ technology.
Auto open/close lid for convenience.
Integrated air deodorizing system.
Energy-saving nightlight feature.
Higher price tag than competitors.
Complex installation may be needed.
Electric supply dependency for features.
Potentially costly maintenance.
---
2. Kohler Veil Intelligent Toilet
Kohler Veil Intelligent Toilet
Comfort Height offers chair-height seating (about 2-in Taller)
Compact, streamlined 1-piece toilet with integrated bidet
Toilet seat included with purchase
Kohler's Veil Intelligent Toilet is the perfect solution for small bathrooms, offering a tankless design with numerous convenience features.
With its heated seat and dual flush system, featuring 0.8 gallons per flush half-flush option as well as 1.28 gallon full capacity – this toilet offers an eco-friendly solution that can save you both water and money in the long run!
It also incorporates several convenient features such as heated seats, nightlight, hands-free open and close lid, automatic flush, as well as a touchscreen remote you never thought you needed until you give it a try.
By being a well known brand in the industry, Kohler stands by their product so users have peace of mind knowing they are investing in quality.
High-tech features enhance convenience.
Warm-water cleansing functionality.
Heated seat with adjustable temperature.
Auto flush and self-cleaning wand.
Quite pricey for a toilet.
May require professional installation.
Electric supply dependency for features.
Complex features could increase maintenance.
---
3. Swiss Madison St. Tropez Wall-Mount Toilet
Sale
This modern tankless toilet, the Swiss Madison St. Tropez Wall Mount Toilet, is perfect for conserving space and improving the look of any bathroom décor.
It features a dual flush system that provides efficient water usage at 0.8 gpf as well as 1.28 gpf for high-performance. The quick release toilet seat makes it easy to remove and clean.
With an elongated bowl you will have added room and comfort. To ensure durability, the one-piece design is made of a scratch resistant porcelain. An added benefit of its wall mounted installation means saving up valuable floor space as well!
Yet, it's important to make sure your particular restroom can fit this type of fixture setup before moving forward, so selecting compatible carrier systems will be key in achieving the desired results from this product.
While other models rely on the floor to support the load, these wall-mounted models require your homes bathroom wall to support the fixture as well as those that are to use it!
For more information related to wall mounted toilets and understanding what's involved with installing one, be sure to check out this post here: The 5 Best Wall Mounted Toilets
Stylish, modern design.
Saves floor space.
Dual flush system for efficiency.
Soft closing seat included.
Wall-mounted installation can be challenging.
Professional installation recommended.
Electric supply dependency for features.
Costly compared to traditional toilets.
---
4. Dyconn Faucet DF-820ZA Arial Tankless Toilet
For those seeking the top-of-the-line tankless toilet, Dyconn Faucet's Tankless Toilet is a great choice. Featuring an array of amenities including nightlight, heated seat and soft close lid plus seat sensors for convenience.
This model provides optimal comfort with its ability to facilitate front/rear cleanse combined with self cleaning dual nozzle technology that is retractable. With controls over water temperature and pressure settings, the ultimate spa-like experience awaits you.
To ensure it continues running in peak performance, it's recommended that you routinely take care of your investment by occasionally scrubbing the toilet bowl & nozzle areas.
High-efficiency, tankless design.
Sleek, modern aesthetics.
Bidet function included.
Adjustable water temperature.
Professional installation required.
Higher initial investment.
Not ideal for traditional décor.
Electric supply dependency for features.
---
5. EPLO Tankless Smart Toilet
EPLO Tankless Toilet
【Smart Toilet for Bathroom】This one-piece toilet pairs minimalist style with the comfort. A full suite of convenient features includes heated seat, nightlight, deodorization, instant warm water, warm-dryer, LED display and auto flush, plus a remote control.
【Better Personal Cleansing】Self-cleaning arc wand offers adjustable spray shape, position, water pressure, temperature, pulsate, and oscillate functions.Front and rear wash modes provide warm water for cleansing.
【Automatic Toilet】Off-seat flushing, button control flushing, foot sensing flushing, remote control flushing. Enjoy hands-free operation.
The EPLO Tankless Smart Toilet is a sophisticated unit that efficiently merges style, functionality, and comfort. It's notable for its high-quality build, featuring a sleek and modern design that enhances any bathroom's aesthetic. With its integrated bidet function, this toilet introduces a new level of personal hygiene, reducing the need for toilet paper and making it environmentally friendly.
In terms of flushing power, the EPLO excels with its high pressure, ensuring a clean flush every time. Furthermore, it is water-efficient, utilizing only the necessary amount of water per flush at 1.1 and 1.6 gpf to conserve resources.
The toilet seat's temperature-controlled adjustment feature enhances comfort, making it ideal for different weather conditions. One thing to keep in mind is that the installation process may be a bit challenging for those not familiar with tankless toilets.
Superior build and design.
High-pressure, efficient flushing.
Integrated bidet function.
Temperature-controlled seat.
Challenging installation process.
High-tech features require adjustment.
High price point.
Electric supply dependency for features.
---
Factors to Consider When Choosing a Tankless Toilet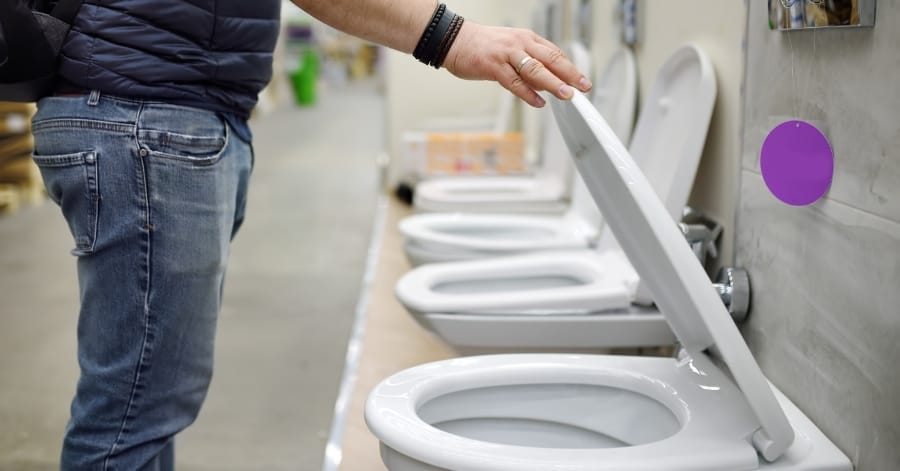 Before you commit to getting a tankless toilet, it is important to take into account several factors when choosing the right one for you. These factors include: design and style, water efficacy levels, installation requirements and comfort features.
The following sections provide information on what you should kept an eye out for when picking the ideal tankless toilet for your home so that you can make a wise decision based on all facts considered.
1. Design and Aesthetics
When selecting a tankless toilet, the shape, size and design of it should be taken into consideration in order to create a unified look for your bathroom. Wall-mounted tanks can help provide an illusion that there is more space while floor mounted models tend to be simpler when setting up.
It's important to note that measurements listed on these products might include or exclude the toilet seat so make sure you measure from baseboard instead of wall before deciding what works best for your needs.
2. Water Efficiency
A dual flush tankless toilet is an ideal choice for those looking to conserve water and save on their water bill. This type of toilet features two flushing options: a lower-volume one for liquid waste, and a more powerful option specifically designed to handle solid matter.
Specific areas may impose certain legal regulations regarding the maximum amount of water per flush. In California, for example, it must not exceed 1.28 gallons each time. Therefore be aware of this when making a choice on which one to select.
By investing in this particular kind of tankless toilets you can significantly reduce your expenses while at the same time contributing towards eco-friendly living by conserving precious resources like water.
3. Installation Requirements
When purchasing a tankless toilet, it is important to be knowledgeable about the installation process and requirements. Tankless toilets demand water pressures between 15-20 PSI (pounds per square inch) to function properly so make sure your plumbing system can deliver that amount of pressure.
For more exact information on how much pressure is required, the manufacturers' specifications will outline how much pressure is required for that specific fixture.
Floor mounted models are easier to set up while wall-mounted ones require steel reinforcements for a successful installment which would call for an experienced plumber.
4. Comfort and Convenience Features
When looking for a tankless toilet, it's important to take comfort and convenience into consideration. Options such as heated seats, nightlights or automatic flushing systems will make your bathroom experience more pleasurable while promoting hygiene at the same time.
Tankless Toilet Maintenance Tips
To ensure your tankless toilet operates effectively and for as long as possible, maintenance is essential. Regular cleaning preserves the beauty of your fixture while looking out for leaks can stop problems before they become bigger issues.
Picking the right flushing mode avoids clogs. If one occurs, a plumbing snake or liquid drain cleaner usually fixes it quickly. By adhering to these tips regularly you will make sure that the toilet is enjoyed for many years to come!
Final Thoughts
To sum it all up, tankless toilets are a great investment for those wanting to upgrade their bathroom and reduce water use. With our reviews of the 5 best tankless toilet options available in 2023, as well as key aspects you need to look at before deciding, you can now choose with certainty.
By picking one that fits your design tastes, comfort requirements and conserving needs perfectly – you will be able to make your restroom stylishly modern while being energy efficient too! Enjoy flushing away!
---
Frequently Asked Questions
Here are some frequently asked questions related to tankless toilets.
Do tankless toilets take up less space?
Tankless toilets are a great option for anyone looking to conserve space and save on their water bill. They are much smaller than regular models, yet use less water while still providing excellent efficiency, as the only time it uses water is when necessary. They may be the perfect choice if you need to reduce floor space or lower your water bill.
How does a tankless toilet work?
Tankless toilets, with their electric pump and valve system, provide a fast and efficient way of discharging waste straight into the drainage without worrying about any overflowing. This technology means that bathrooms don't have to be occupied by bulky tanks.
It also reduces water usage during flushing compared to traditional options, making tankless models an excellent environmentally-friendly choice.
What is the main difference between a tankless toilet and a traditional tank toilet?
Tankless toilets are becoming increasingly popular for their convenience and water efficiency. Rather than having a tank, they obtain water directly from the main supply line, resulting in less wasted space compared to conventional tanks.