When it comes to the code requirements for residential showers, the International Residential Code (IRC) outlines the size, clearance, and dimensions for residential showers.
The IRC has an entire part within it dedicated to plumbing systems and inspections of residential dwelling units subject to the International Residential Code.
Since the IRC was created to serve as a complete/comprehensive code, it is divided into eight main parts. One of these being for plumbing systems.
Fun Tip: To learn the difference between the International Residential Code (IRC) and the International Building Code (IBC), be sure to check out this POST.
The code requirements for residential plumbing fixtures can be found in Chapter 27 of the IRC. The purpose of this chapter is intended to ensure that plumbing fixtures are installed properly to promote usability and safe, sanitary conditions.
In this post we will go over one of the important features that is overlooked within shower compartments, the door.
Since the shower compartment itself has many clearances and dimensions that must be met, the shower door can easily be overlooked. Therefore it is important to understand what the minimum opening size is for a shower door to ensure proper access and egress is provided to and from the shower compartment.
Shower compartment requirements can be found in Section P2708.1 of the 2018 International Residential Code (IRC).
Shower Door Size
What is the minimum size for a shower door?
The shower compartment access and egress opening shall have a clear and unobstructed finished width of not less than 22 inches.
This dimension is basically found to be the average shoulder width of an average sized adult. You can have a larger shower door opening, but the minimum clear finished width must not be less than 22 inches.
Therefore a shower door that can meet this clearance for accessing the shower and exiting it can be used.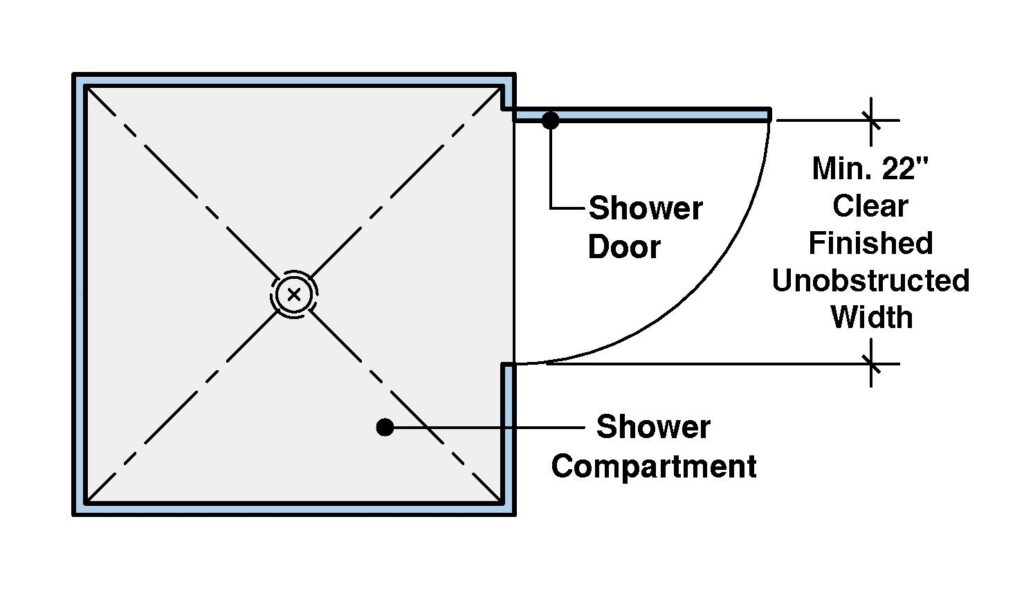 Shower Door Swing
Can a shower door open inwards?
Hinged shower doors shall open outward.
Since most shower compartments are limited in area, a swinging shower door must open outward. The purpose for this is to easily allow the user to step out from the shower without having to move around the door since the user is standing on a wet shower floor.
Usability and safety of the user is important and therefore another reason why it must swing out is in case of an emergency where the user might fall and become unconscious in the shower. This way if the door swings out, someone can come to the aid of the user and just freely open the door from outside.
If the door were to swing in only, then it might be blocked by the fallen person using the shower, limiting access for rescue or assistance.
So this basically sums up the basic code requirements for shower doors within residential dwelling units that are subject to the International Residential Code (IRC).
.
* Reference Source – 2018 International Residential Code – [Buy on Amazon]
.
Related Articles to Read: