Clean air is absolutely necessary, especially when you are around construction dust. With lots of pollutants and particles lingering during or following construction work, it's critical to ensure that you have access to a clean air free from any kind of dust.
Whether your a contractor looking to achieve a cleaner and safer work environment or you a someone who just had some renovation done around the house and want to purifier the air within a room, then you'll want to continue reading.
To help with this issue, we have compiled a list of the top five best air purifiers for construction dust pollution ensuring your surrounding environment is free from these particles.
Let's find out more about these air purifiers and how they can help you today.
The 5 Best Air Purifiers for Construction Dust (Comparison Table)
Preview
Best Overall
Most Heavy-Duty
Best for Large Spaces
Most Bang-For-Your-Buck
Best for Small Spaces
Product Dimensions
24.8"D x 20.87"W x 14.96"H
Best Overall
Preview
Most Heavy-Duty
Preview
Product Dimensions
24.8"D x 20.87"W x 14.96"H
Best for Large Spaces
Preview
Most Bang-For-Your-Buck
Preview
Disclaimer: This article contains affiliate links where I may receive a small commission at no cost to you if you decide to make a purchase.
---
What are the Best Air Purifiers for Construction Dust? Our Top Picks
We have a list of the best air purifiers to help you breathe easier during and after construction work. All five of these devices come equipped with powerful filtration systems, high-efficiency air filters, and advanced technologies that will efficiently remove dust particles from your indoor environment.
Therefore let's review some of the unique features found in each device.
1. Winix 5500-2 [Best Overall]
Sale
Winix 5500-2
True HEPA filter captures 99.97% of airborne pollutants; dust mites, pet dander, pollen and other allergens as small as 0.3 microns
Washable AOC Carbon Filter, made from activated carbon granulars for removal of household odors. Decibels 27.8 dB
PlasmaWave acts as a permanent filter to safely break down odor, allergens, chemical vapors and other pollutants with no harmful ozone
The Winix 5500-2 is the best overall air purifier for construction dust due to its powerful 3-stage filtration system and Clean Air Delivery Rate (CADR). It features a True HEPA filter, an activated carbon filter that eliminates odors, and pre filtering which captures bigger particles such as pet dander. It has a smart sensor that automatically adjusts fan speed depending on indoor air quality, this allows superior performance while reducing energy consumption.
We can conclude that this is an excellent choice in terms of effectiveness when tackling construction dust indoors or at workspaces thanks to its user friendly design plus high grade filters able to capture 99%+ airborne particles and other allergens as small as 0.3 microns resulting in clean breathable air.
Features PlasmaWave technology.
Uses a True HEPA filter.
Includes washable AOC carbon filter.
Smart sensors for automatic adjustment.
Sleep mode for quiet operation.
Replacement filters can be costly.
Bulkier than some other models.
May struggle in very large spaces.
---
2. ALORAIR Air Scrubber [Most Heavy-Duty]
Sale
ALORAIR Air Scrubber
Multilevel Filtration: This ALORAIR air scrubber has a 3-stage filtration system. It is equipped with a MERV-10 filter that can capture large particles and a carbon filter that can eliminate smoke and pet odor, a HEPA filter that can trap 99.5% of particles of larger than 0.3 microns. The unit size is very suitable for home repairs and construction sites, sewage repairs, water and fire repairs, salons and printing shops, etc.
Heavy Duty and Easy to Operate: Rotomolded polyethylene (LLDPE) shell has great durability. It is easy to turn ON/OFF the air purifier through the control panel、adjust the airflow range of 270-550 CFM and the reset circuit breaker. It has an indicator light, the indicator light will light up to remind you when you need to replace the filter. You will find the auxiliary GFCI outlets on the panel. This air machine has a filtration area of 5,500 cubic feet and a maximum airflow of 550CFM.
The ALORAIR Air Scrubber is definitely not a quiet unit but it is an excellent solution for construction dust removal and large areas needing a more heavy-duty air cleaner. This 3 stage filter system has the capacity to capture airborne particles, providing impressive coverage up to 5,500 cubic feet in size and a maximum airflow of 550 CFM.
Built specifically for basement/crawlspace restoration projects, its robust design guarantees years of reliable performance even when faced with harsh conditions due to its 10 year warranty. This compact unit provides high airflow rates thus ensuring efficient particle capture, given its MERV-10 filter, while still allowing for easy maneuverability during transportation on site or offsite as necessary making sure your construction sites remain safe and clean from construction dust!
Utilizes HEPA filtration system.
Suitable for industrial and commercial use.
Portable with stackable design.
Variable speed airflow control.
Robust construction for durability.
May be too large for home use.
Potentially noisy during operation.
High initial purchase price.
---
3. Alen 75i [Best for Large Spaces]
Sale
Alen 75i
H13 HEPA PURE FILTER: Our most popular filter for eliminating everyday allergens and pollution from your air. The H13 HEPA Pure filter captures 99.9% of dust, allergens, and harmful fine pollutants as small as 0.1 micron so you can breathe easy. This filter is ideal for everyday home purification, allergy and asthma sufferers, and virus concerns.
PURE POWERHOUSE: The Alen BreatheSmart 75i is Alen's most powerful purifier, capturing the largest numbers of particles in your air in the shortest amount of time. It's power and efficiency can take on the toughest pollutants, even in large spaces.
ROOM SIZE: The BreatheSmart 75i quietly and efficiently circulates the air in rooms up to 1,300 sq. ft. every 30 minutes. Perfect for living rooms, large rooms, and open concept spaces.
The Alen 75i is the perfect air purifier for bigger spaces. Featuring a true HEPA H13 filter that captures 99%+ of particles as small as 0.1 microns. It effectively eliminates construction dust particles from your indoor atmosphere while having an area coverage up to 1,300 sq ft which is ideal for larger rooms or open areas.
This device offers excellent cleaning power along with other useful features such as its modern design, advanced functions and clean breathable air quality all in one place, thus making sure that those affected by construction dust are safe from the breathing environments around them.
Designed for large room coverage.
Features a True HEPA filter.
Includes smart sensor technology.
Quiet operation at low setting.
Relatively high purchase price.
Filter replacement can be costly.
May be bulky in small spaces.
---
4. Hathaspace HSP001 [Most Bang-For-Your-Buck]
Sale
Hathaspace HSP001
Filter your air – Our 5-in-1 filter system targets pollen, dust, pet dander, VOC's, smoke, and odors. Our H11 HEPA filter captures 99.9% of particles down to 0.3 microns.
What you get – Smart air purifier, True HEPA filter set, remote control, manual, 2-year warranty, award-winning customer support 7 days a week, and the peace of mind that comes from a trusted American brand.
Remove odors, smoke, & VOC's – Both an air cleaner and odor eliminator, our air purifier features a unique honeycomb activated-carbon filter that absorbs odors, smoke, and VOC's. With a state-of-the-art fan and motor, enjoy clean air delivered quietly and efficiently in your home, bedroom, office, kitchen, basement, dorm, apartment, or living room.
When searching for a cost-effective solution to remove construction dust, the Hathaspace HSP001 air purifier is an excellent option. This wallet-friendly machine features 5 stages of HEPA filtration that captures and gets rid of airborne particles for spaces up to 700 square feet.
The filter includes a carbon filter that can absorb smoke, odors, gases and removes common allergens like dust, mites, pollen, and pet dander making this air purifier effective in combating the dirtiest of places.
The device has some amazing added benefits like its air quality sensor alerting you when there's too much contamination present, filter health indicator guiding with necessary maintenance information, supersensitive auto mode ensuring no rise or drop in the amount of pollutants left behind and remote function giving hassle free access even from afar!
All these conveniences will provide you consistent performance along with cleaner air without having to compromise on spending extra money which other similar machines may require before they can produce the same results.
5-stage filtration process.
Smart air quality sensor included.
Quiet operation for comfort.
Filters might require frequent replacement.
Limited design and color options.
---
5. Levoit Vital 100 [Best for Small Spaces]
Levoit Vital 100
POWERFUL PERFORMANCE: With a CADR of 130 CFM / 221 m3/h, the Vital 100 is perfect for living rooms, bedrooms, and kitchens. It can cover 300 ft² / 28 m² in only 18 minutes. (Only products over 6 pounds can be equipped with such powerful motors that optimize the air cleaning performance).Voltage: AC 120V, 60Hz
3-STAGE FILTRATION: Comes equipped with a washable pre-filter for large particles like lint and fur, a High-Efficiency Activated Carbon Filter for toxic fumes and unpleasant odors, and an HEPA Filter, which captures at least 99.97% of dust, pollen, and any airborne particles with a size of 0.3 microns (µm)
SLEEP COMFORTABLY: With noise levels as low as 23 decibels, the Vital 100 won't keep you up at night. You can also turn off the display lights when it's time for bed
The Levoit Vital 100 is a powerful air cleaner specifically designed to efficiently eliminate construction dust and airborne particles in small to medium sized rooms of up to 300 sq ft. The 3 stage filtration system includes a washable pre-filter for large particles, a high efficiency carbon filter for fumes and odors and a HEPA filter which captures dust, pollen and airborne particles at a size of 0.3 microns.
This top notch air purifier also boasts various smart features such as a check filter indicator that will let you know if it's time to change the filter. Being compact in size and lightweight, the Levoit Vital 100 air purifier is a good option for those small jobs that require you to move from one job to the next.
Efficient 3-stage filtration system.
Affordable price point.
Quiet operation for night use.
Compact and modern design.
Less effective for larger rooms.
Limited smart features.
---
Factors to Consider When Choosing an Air Purifier for Construction Dust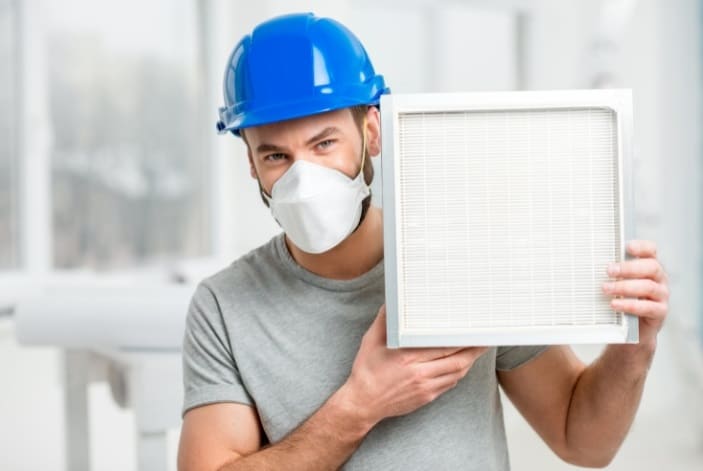 When looking for the best air purifier for construction dust, it is important to consider several factors in order to ensure optimal performance and effectiveness.
Most air purifiers are designed to cover a certain area of square feet. Selecting one that suits your space size is essential. To evaluate its speed or capability, measure the Clean Air Delivery Rate (CADR) as this indicates how much filtered clean air will be delivered by an appliance with higher ratings being more effective.
Look out for energy efficient models such as those with Energy Star certification or Eco Mode, ensuring minimal power consumption while also focusing on noise levels according to environmental requirements. Also remember to select an appropriate HEPA filter model that is a True HEPA filter which eliminates particles from the atmosphere like for example construction dust.
The Role of HEPA Filters in Removing Construction Dust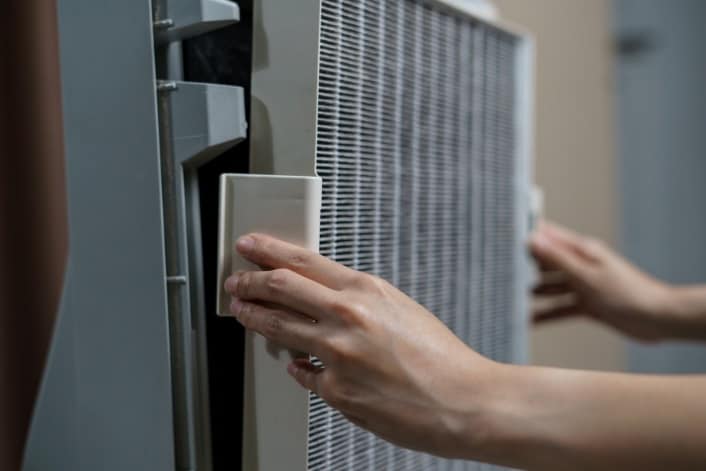 Air purifiers with HEPA filters are essential for removing airborne contaminants, such as construction dust and other harmful particles from the air. These filter systems capture 99.97% of all 0.3 microns or larger particles using diffusion technology.
Having an effective filtration system like this is critical to ensuring everyone's safety amidst ongoing renovations or work sites involving large scale amounts of dust production, thus also preventing health issues associated with prolonged exposure.
To maximize protection against dangerous pollutants including fine dust mites, consider implementing additional control methods apart from just regular use of these Air Purifiers for example wearing a respirator when working on projects that cause huge dust clouds, setting up containment units around any area under renovation, wiping down surfaces regularly, and vacuuming areas which accumulate dirt quickly.
By investing some time practicing these combined techniques, you can reduce your risks significantly concerning indoor air quality due to construction.
Activated Carbon Filters: A Must-Have for Construction Dust Purification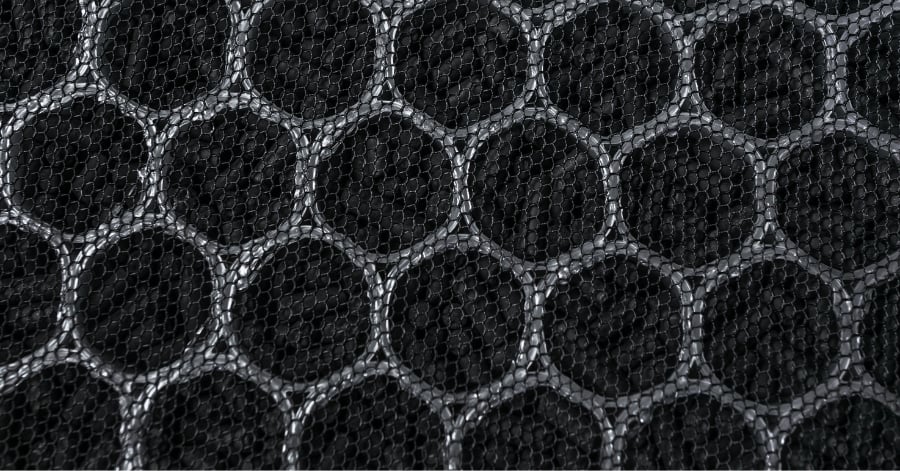 When it comes to air purifiers designed for construction dust, the incorporation of an activated carbon filter is essential. Not only does this type of filter excel at getting rid of smoke, VOCs and odors in the air, but also has a role in trapping larger particles such as hair or dust which can be extremely harmful.
An added benefit would be that these filters are able to protect the main HEPA filtration system by blocking out debris and stopping them from clogging up within any regular usage cycle.
To get full protection against all airborne contaminants derived from construction activities, combining both a HEPA filtering system with an activated charcoal pre-filter might just do the trick since together they'll ensure your device successfully removes dirt while taking away odor plus other substances like toxins.
Energy Efficiency and Power Consumption in Air Purifiers
When selecting the best air purifier for construction dust, energy efficiency is another critical factor.
Models with an Energy Star rating or features like Eco Mode are recommended since they assist in minimizing power consumption by altering fan speed according to air quality levels ensuring peak performance while reducing electricity costs significantly.
Although some may have higher energy use than others, ultimately customers should take this into account when planning to run the purifier all day.
Durability and Maintenance of Air Purifiers for Construction Dust
Durability and maintenance are both essential aspects to consider. The conditions in this environment require a resilient unit made of high-grade materials that can protect the internal components from dust particles and other debris.
Appropriate upkeep such as HEPA filter replacement is also necessary to guarantee your machine continues running optimally at all times.
It's important to adhere strictly to the manufacturers guidelines. When deciding on an air purifier, you should take into account how straightforward or complex the cleaning and filter replacement process is.
This way, based on how often you need to change out the filter, you will know if the unit you are looking into will have the performance quality it needs to tackle the duration of the job.
Smart Features and Technology in Air Purifiers for Construction Dust
In the digital age we live in, air purifiers designed for construction dust can be drastically improved with advanced features and smart technology. Real-time indicators enable you to keep track of your environment's air quality so that your settings can accurately target dirt particles or other pollutants present in the atmosphere.
Automatic mode also allows it to switch modes depending on what is detected. Giving better performance and a superior user experience when wanting clean air at home or work.
Remote control capabilities as well as timer functions make use more convenient by allowing users to manually adjust settings from afar while keeping energy costs down if using specific durations for operation purposes. With these advancements, cleaning up after construction tasks will become easier through utilizing an efficient but still user friendly device.
How to Clean Your Home After Construction: Practical Tips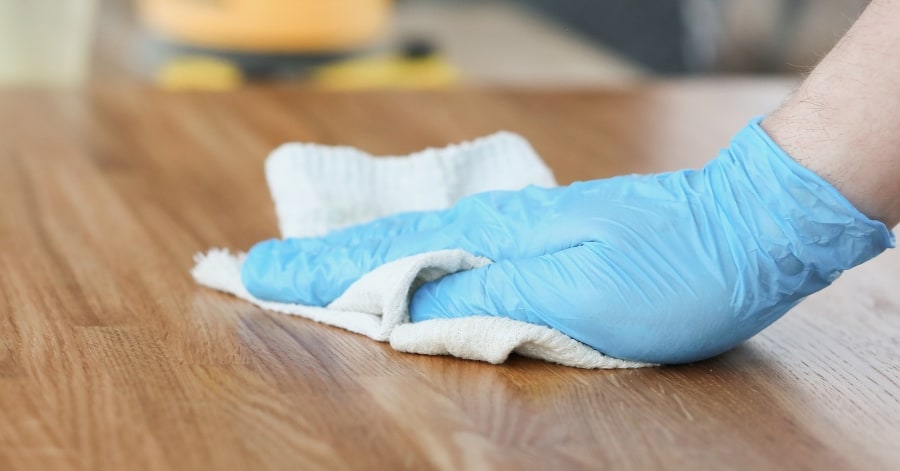 When it comes to cleaning your home after construction, the right tools and methods can help ensure a healthy environment free of dust particles. It is important to have proper ventilation by opening windows or doors in order for fresh air to circulate and take out any lingering dust.
To start off, use a damp cloth when wiping down surfaces like shelves or doorframes starting from the top and going downwards. This will reduce the scattering of debris into the air. Vacuuming all areas with dirt build-up using an appliance fitted with HEPA filters works great at removing fine particulates.
Lastly, consider mopping floors. So that no traces are left behind before finally sealing in the indoor air. Through these steps you can ensure an even cleaner home.
Final Thoughts
Investing in a reliable air purifier that can effectively remove construction dust and other harmful particles from your indoor environment is key for obtaining clean and safe air.
A high-quality device should be chosen taking into consideration various criteria like room size, filtration system performance, and energy efficiency level of the model.
The list of air purifiers above are all ideal options when it comes to selecting an optimal air purifier with advanced features at hand. These models can help you maintain proper levels of clean air depending on your room size or work environment.
---
Frequently Asked Questions
Here are some frequently asked questions related to air purifiers used for construction dust.
Do air purifiers help with construction dust?
Air purifiers can play a role in improving the air quality of your surrounding by reducing construction dust that may be present. These devices are essential in keeping clean and safe air free from pollutants of all kinds.
What is the best air filter for construction dust?
A HEPA filter is considered the best option when it comes to filtering out construction dust as it can capture 99%+ of air particles as small as 0.3 microns in size from the air, providing great protection against even the tiny pieces of dust generated by a building project site.
Can air purifier remove drywall dust?
Yes, HEPA air filters can capture finer particles such as airborne drywall dust from sanding. These HEPA filters can capture 99%+ of dust particles as small as 0.3 microns in size.
How long does construction dust stay in air?
Gravity will cause most of the particles to settle however construction dust can remain in the air for up to 12 days due to its small particle size therefore having an air purifier running during and after the work is complete can substantially reduce this.