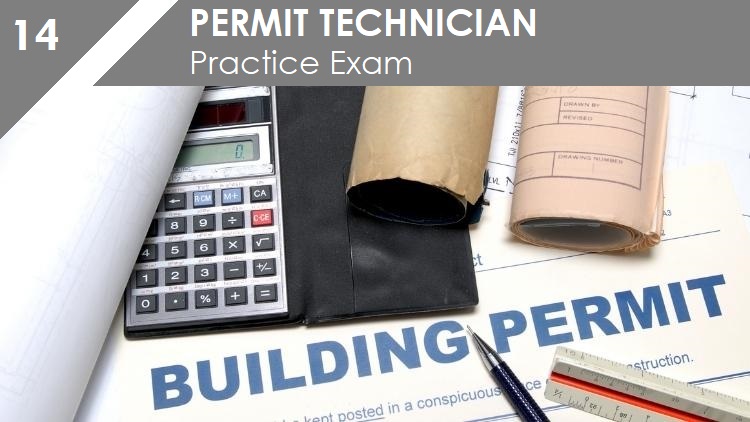 $34.99
Includes 2 Practice Exams, 60 Questions Each
Want to become a Certified Permit Technician?
The ICC Permit Technician Certification Exam administered by the International Code Council (ICC) tests an individuals knowledge of the International Building Code (IBC) and International Zoning Code (IZC).
Your first step is to know a little bit about the exam itself and what areas you should be studying for.
As a Certified Permit Technician you possess the ability to exercise independent judgment in evaluating situations and in making determinations at the counter.
The Permit Technician understands the basic construction components and practices associated with a project and provides technical assistance in the issuance of construction and development permits to ensure compliance with the provisions adopted by State and local jurisdictions.
Permit Technician Exam Specifications
The exam consists of 60 multiple-choice questions. You have a time limit of 2 hours to complete the exam and it is open book meaning you can only use the code book referenced by ICC. For this exam it is the International Building Code® (IBC®), International Zoning Code® (IZC®), Legal Aspects of Code Administration, and Basic Code Enforcement book.
The code edition of the reference used should reflect the code edition of the exam you are taking. For example if you plan to take the 2021 version of the exam, you should use the 2021 International Building Code. No work experience is required to take the exam and you must be at least 18 years of age.
The International Code Council (ICC) requires you to take the exam through the PRONTO system.
PRONTO is a new way of taking your testing exam from the comfort of your home or office. PRONTO stands for Proctored Remote Online Testing Option. For more information about the PRONTO online testing option, click here.
What does the ICC Permit Technician exam cover?
This exam covers 4 main areas such as:
General Administration
Legal Aspects
Plans and Documents
Zoning and Site Development
The following exam content outline can act as a study guide to help you study for the exam and to gain an understanding of what the exam will cover.
Customer Service:
Interview customers and determine their needs and assess the scope of their project and direct them. Communicate with customers and staff using the appropriate terminology. Educate customers. Employ organizational skills.

Project Applications:
Verify that the project has all prerequisite approvals. Verify that application and the project information provided is complete and is acceptable. Verify professional and contractor licensing where necessary.

Basic Building Concepts:
Review the basic building concepts on plans for content. Verify basic details, elements or components of plans for completeness.

Permit Issuance and Fees:
Process documents for required approvals. Calculate and verify valuations and fees and accept financial guarantees. Issue permits.

Inspections and Certificate of Occupancy:
Accept inspection requests. Verify that special inspections are performed where required. Track permit status. Coordinate approvals for and prepare the Certificate of Occupancy.

Public Information and Legal:
For new and existing projects, answer questions about the need for approvals, permits and inspections, general code compliance of designs, procedures and materials. Address liability and public disclosure issues when necessary.

Records Management:
Verify that the necessary documents are retained for the period required and available as needed.

Record Research:
Research and document project history and code compliance.

Appeals and Revocation:
Process appeals and suspension or revocation of approvals, decisions and/or permits.

Review Related Documents:
Verify content of plans, engineered construction drawings and/or specifications for submittal. Determine the need and/or level of review.

Occupancy Group and Type of Construction:
Verify that the occupancy classifications and the types of construction are designated on the plans and/or permit documents.

Read Maps:
Read and identify map and plat/tract specifications and components.

Perform Calculations and Use Scales:
Use architectural and engineering scales to determine basic dimensions and calculate areas and percentages.

Zoning and Site Development

Land Use:
Explain the site plan review process or developmental plan review and land use codes.

Right-of-Way, Utilities and Easements:
Determine public right-of-way and private and public easements. Regulate construction in public right-of-way.

Site Plan Review:
Verify structure location on the lot, zoning and engineering requirements. Verify required set back and percentage of lot coverage. Recognize the need for variances.
What do you get when you pass the Permit Tech exam?
Certification
Bragging rights! Well actually you will receive a pass letter the same day right after your exam. You will have a certification number assigned to you so that if someone were to search for a certified professional within the ICC website, your name will come up!
In addition to being a Certified Permit Technician (Yayyy!) you will receive a wall certification that looks like this…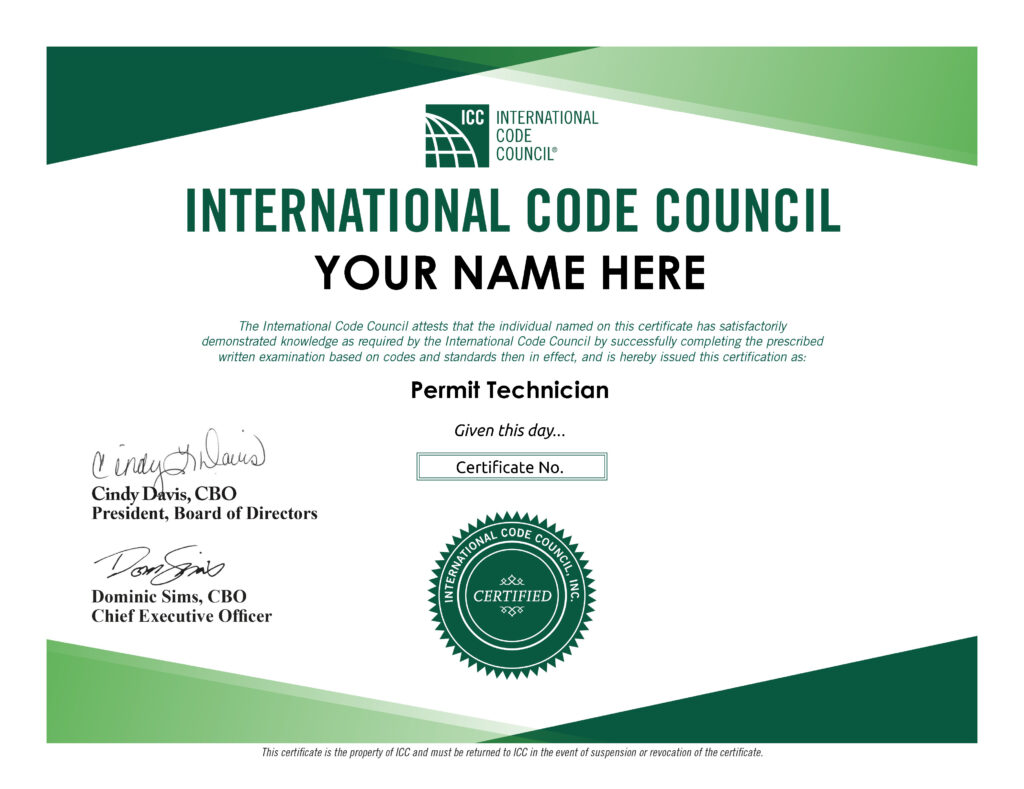 Need Practice?
Why not try our Permit Technician Practice Exam?
Want to test your knowledge of how well you know the code? Or maybe just get a feel for the exam?
Try out our Practice Exam for the ICC Permit Technician Certification Exam!
This practice exam is designed for those who are looking to take the 2021 or 2018 version of the ICC Permit Technician Certification Exam through the International Code Council (ICC). These practice exams are intended to help you prepare for the actual exam by helping you navigate through the code book to familiarize yourself with the specific code sections. They will test your knowledge on the exam content areas covered to improve your chances of passing the certification exam.
This is a great way to prepare yourself for the actual exam administered by ICC. Every building code professional knows that the key to passing the ICC exams is to do practice problems. Don't just take the exam purely on experience alone. Let this resource get you focused on realistic problems built around the exam content being covered.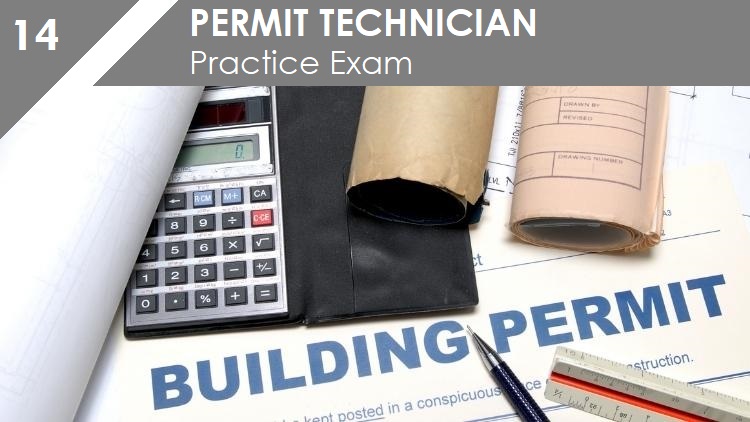 $34.99
Includes 2 Practice Exams, 60 Questions Each
Happy Test Taking!
Related Articles to Read: