Want to become a Certified Residential Plans Examiner?
The R3 Residential Plans Examiner Certification Exam administered by the International Code Council (ICC) tests an individuals knowledge of the International Residential Code (IRC®).
Your first step is to know a little bit about the exam itself and what areas you should be studying for.
As a Certified Residential Plans Examiner you will be responsible for performing for plan review of structures to determine compliance with the International Residential Code and Standards.
This level of certification allows the Plans Examiner to review plans and construction documents for one-and-two family dwellings and their accessory structures.
R3 Residential Plans Examiner Exam Specifications
The exam consists of 60 multiple-choice questions. You have a time limit of 2 hours to complete the exam and it is open book meaning you can only use the code book referenced. For this exam it is the International Residential Code (IRC®).
The code edition of the reference used should reflect the code edition of the exam you are taking. For example if you plan to take the 2021 version of the exam, you should use the 2021 International Residential Code. No work experience is required to take the exam and you must be at least 18 years of age.
The International Code Council (ICC) requires you to take the exam through the PRONTO system.
PRONTO is a new way of taking your testing exam from the comfort of your home or office. PRONTO stands for Proctored Remote Online Testing Option. For more information about the PRONTO online testing option, click here.
What does the R3 Residential Plans Examiner exam cover?
This exam covers 8 main areas such as:
The following exam content outline can act as a study guide to help you study for the exam and to gain a better understanding of what the 8 main areas of the exam will cover.
Administrative
5%

Permits

Determine if a permit is required and if the submittal is complete and meets the scope of the One and Two Family Dwelling Code.

3%

Correspondence

Communicate with the applicant any need for further information, alerting them of deficiencies in their submittal or of their approval to start work; mark the official approved sets of drawings after approval.

2%
Site
10%

Site Plan

Verify from the site plan that the building or structure location is in compliance with the requirements of the local ordinances, fire separation regulations, fire access, flood-hazard areas, setbacks, encroaching on any legal easement, wetland, right of way, or neighboring property.

8%

Final Grade

Verify that final grade will provide the required slope away from the footing or foundation wall and will not adversely affect neighboring property.

2%
Architectural and Life Safety
25%

Room Sizes

Verify adequate room sizes, ceiling heights, heat, light, and ventilation are provided.

3%

Means of Egress

Verify adequate means of egress, with proper widths, stairs, guards, rails, and openings.

8%

Fire Protection

5%

Glazing

Verify safety requirements for glazing and foam plastic elements.

3%

Exterior

Verify that exterior veneers and siding have correct anchorage, support, and backing. Verify that a weather-resistant barrier is correctly specified for all walls and around all wall openings. Verify that exterior sheathing materials are correctly sized and specified. Verify that plaster, stucco, and metal lath have correct thickness and fasteners.

3%

Specialty

Verify unique requirement compliance for specialty, detached, and accessory structures such as pools, spas, fireplaces, and storage buildings.

3%
Structural
25%

Design Loads

Verify designer used the correct design loads.

2%

Footings

Verify that footings are designed to correct depth, size and setbacks and that footings will extend below the frost line. Verify footing drains for basements and crawl spaces for compliance with the code. Identify soil type and verify that bearing capacity is adequate.

3%

Foundation Walls

Verify that foundation walls are correctly sized and have sufficient height above grade. Verify that foundation wall materials, reinforcement, anchor bolts, and fasteners are correct type, size, and grade and are located in accordance with building code requirements. Verify that foundation dampproofing and waterproofing are to be provided.

5%

Structural Elements

Verify that structural elements are correctly designed to support loads and maintain load path continuity. Structural elements can include beams, girders, trusses, headers, joists, rafters, columns, piers, walls, and bracing, as well as others not listed.

7%

Lateral Bracing

Verify lateral bracing is adequate to meet required load conditions such as wind and seismic loads.

5%

Construction Design

Verify construction design for wall systems built below the lowest finished floor in flood zones.

1%

Pre-manufactured Construction

Verify pre-manufactured construction elements are to be utilized in accordance with their listing.

2%
Energy Efficiency
5%

Energy

Verify energy saving provisions for the building envelope, mechanical equipment, and appliances comply with the code and are indicated on the plans.

5%
Mechanical
10%

Mechanical Equipment and Appliances

Verify adequate protection, support, space, and clearance are provided for mechanical equipment and appliances.

2%

Room Volume

Verify adequate room volume for combustion air or alternate provisions.

2%

Venting and Venting Termination

Verify proper application of venting and venting termination.

2%

Fuel Gas Pipe Sizes

Verify proper fuel gas pipe size to provide adequate gas to appliances and equipment.

2%

Fuel-Burning Equipment

Verify that special systems utilizing fuel burning equipment, such as interior open-flame grills, pool and sauna heaters, hydronic heating systems, and decorative appliances comply with code requirements, the manufacturer's instructions, and listing of the equipment and have proper access and clearances.

2%
Plumbing
10%

Fixtures

Verify minimum required fixtures are provided in proper location with correct clearances.

3%

Clearances and Support

Verify adequate clearances and support are provided for piping and piping termination.

1%

Potable Water System

Verify potable water system is provided and protected.

3%

Sanitary Disposal

Verify sanitary disposal system is provided and protected.

3%
Electrical
10%

Load Calculation

Verify adequate service is being provided for the building as per the load calculation.

2%

Circuits and Disconnects

Verify required circuits and disconnects are provided.

1%

Grounding and Grounding Electrode Systems

Verify the method and location of the grounding and grounding electrode systems.

2%

Outlets, Switches, Luminaires, and Receptacles

Verify that outlets, switches, luminaires and receptacles, including GFCI and AFCI protection, are installed in required locations.

2%

Electrical Panel

1%

Bonding

Verify bonding of metallic housings and elements.

1%

Conductor and Conduit Size and Support

Verify proper conductor and conduit sizing and support.

1%
What do you get when you pass the Residential Plan Examiner Exam?
Bragging rights! Well actually you will receive a pass letter the same day right after your exam. You will have a certification number assigned to you so that if someone were to search for a certified professional within the ICC website, your name will come up!
In addition to being a Certified Residential Plans Examiner (Yayyy!) you will receive a wall certification that looks like this…
Why not try our R3 Residential Plans Examiner Practice Exam?
Want to test your knowledge of how well you know the code? Or maybe just get a feel for the exam?
Try out our Practice Exam for the R3 Residential Plans Examiner Certification Exam!
This practice exam is designed for those who are looking to take the 2021 or 2018 version of the R3 Residential Plans Examiner Certification Exam through the International Code Council (ICC). These practice exams are intended to help you prepare for the actual exam by helping you navigate through the code book to familiarize yourself with the specific code sections. They will test your knowledge on the exam content areas covered to improve your chances of passing the certification exam.
This is a great way to prepare yourself for the actual exam administered by ICC. Every building code professional knows that the key to passing the ICC exams is to do practice problems. Don't just take the exam purely on experience alone. Let this resource get you focused on realistic problems built around the exam content being covered.
Practice Exam Screenshots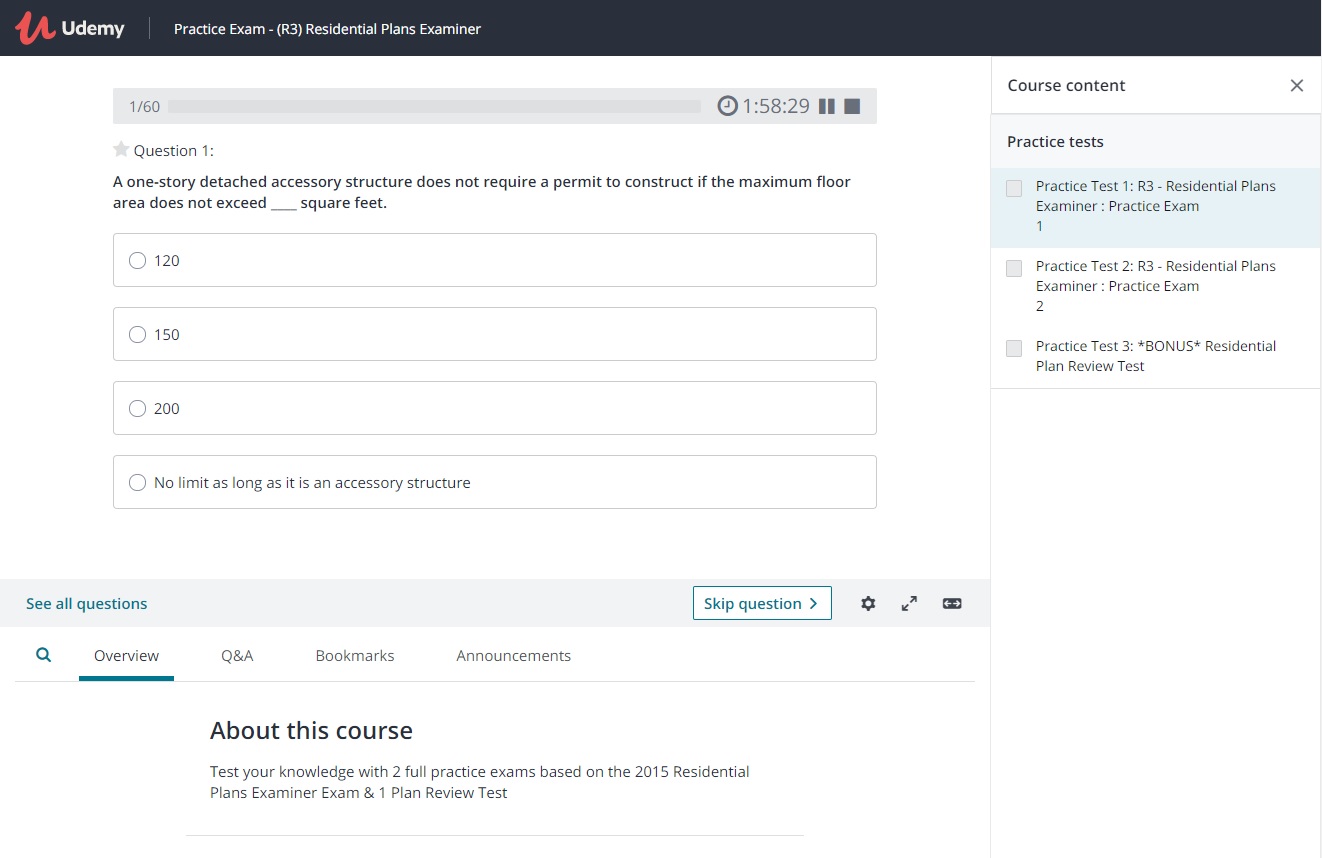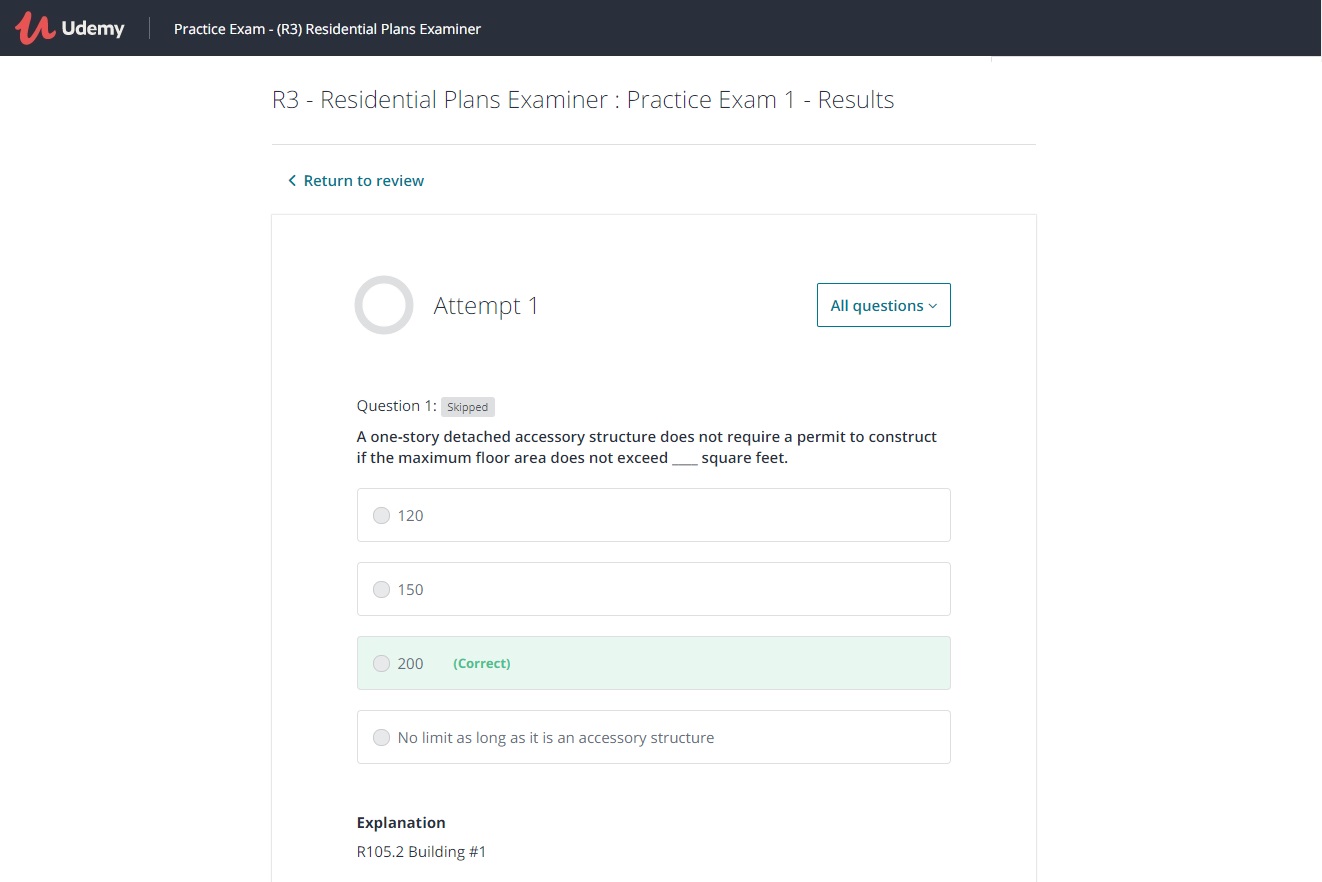 Bonus Plan Review Practice Test
Along with 2 practice exams you will also receive a Plan Review Practice Test. The purpose of this practice test is to help you get familiar with reviewing a set of plans for compliance with the code. This practice test provides you with a set of sample plans used to answer questions designed around residential plan review. This bonus test is used as an exercise to help you learn how to apply the code correctly. Below are some sample screenshots of the plans used for the bonus test.