Construction sites are challenging environments that require focus and attention, making it essential for workers to wear hearing protection.
Fortunately, there is the option of noise-canceling earbuds specifically designed for these settings, which provide safety as well as comfort in listening to music or taking phone calls.
In this blog post, we will go over 7 different models offering high levels of noise reduction qualities, durability, and performance with construction workers in mind.
The 7 Best Earbuds for Construction (Comparison Table)
Preview
Best Overall
Best Wireless
Best Value
Most Comfortable
Best Battery Life
Title
ISOtunes Free True Wireless
Bose QuietComfort Earbuds 2
Disclaimer: This article contains affiliate links where I may receive a small commission at no cost to you if you decide to make a purchase.
What are the Best Earbuds for Construction? Our Top Picks
We have compiled a list of the 7 best earbuds that would fit the requirements of construction workers, taking into consideration their sound performance, battery life, wireless range when using Bluetooth technology, call quality as well as comfort.
We did our research and below is our top 7 picks for the best earbuds for construction workers:
1. ISOtunes PRO 2.0 – Best Overall
Sale
ISOtunes PRO 2.0
BLOCK NOISE: heat-activated memory foam eartips expand like an earplug to significantly reduce outside noise. ISOtunes PRO 2.0 are ANSI-certified and OSHA-compliant with 27 dB Noise Reduction Rating (NRR) and SafeMax volume-limiting technology. Comes with 4 pairs of foam eartips and 1 pair of silicone triple-flange eartips.
WIRELESS MUSIC & CALLS: wirelessly play music and take calls 30+ feet from your device with Bluetooth 5.0 technology. High quality sound is achieved with high-fidelity speakers and aptX audio.
MORE POWER: Improved 16+ hour battery life of music and talk time to get you through multiple work days between charges. Comfort-Fit earhook wraps over and around to provide a comfortable, secure fit all day for any ear.
The ISOtunes PRO 2.0 earbuds provide reliable hearing protection, robustness and extended battery life. Thanks to the NRR of 27 dB, they make sure construction workers stay focused on their tasks effectively. These headphones come with a whopping 16+ hours of power supply, built-in Bluetooth 5.0 for 30ft range connectivity, noise canceling mic as well as sound regulation controls all while being waterproof according to IP67 standard criteria.
These headphones are equipped with SafeMax technology which makes them OSHA compliant by regulating audio volumes at 85dB in order to secure ear protection in your ears when listening to loud music or sounds without having any risk present whatsoever.
To summarize everything, we can conclude that due to its performance longevity, sturdiness and effective form of safeguard against excessive decibels, the ISOTUNES Pro 2.0 should be considered for use within the building sector if one is looking after both comfortability along with superior quality standards to prevent overheating.
---
2. ISOtunes Free True Wireless – Best Wireless
ISOtunes Free True Wireless
BLOCK NOISE: heat-activated memory foam eartips expand like earplugs to significantly reduce outside noise. ANSI-certified and OSHA-compliant with a 22 dB Noise Reduction Rating (NRR) and 85 dB SafeMax Volume Limiter. Comes with 3 pairs of foam eartips (S,M,L) and 3 pairs of silicone double-flange eartips.
TRUE WIRELESS: ISOtunes FREE introduces a cordless solution for your workshop, jobsite, and home. Remove sweaty cords and muffs for increased versatility and comfort. Utilizes latest Bluetooth 5.0 technology with easy-to-use automatic pairing to your devices.
ALL DAY BATTERY: 7+ hour battery life gets you through long days without having to recharge. Minimize recharging hassle with our compact, portable charging case capable of 3 full charges for 21 hours of extra use. Expanding foam eartips and thoughtfully designed earbuds hold comfortably and securely all day.
For those looking for a wireless solution, the ISOtunes Free True Wireless earbuds are an ideal choice. They come with an NRR of 22 dB and provide up to 7 hours of battery life per charge.
They feature 85 dB SafeMax Volume Limiter as well as noise-suppressing microphone technology that helps reduce ambient sound when used by construction workers or others in noisy environments.
All these features make it clear why ISOtunes FREE offers optimal auditory protection while still offering great convenience through its true wireless design making them one of the best picks available on market specifically tailored towards construction personnel needs.
---
3. Plugfones Liberate 2.0 – Best Value
Sale
Plugfones Liberate 2.0
NOISE REDUCING EARBUDS & MIC: We've combined comfortable, safety-rated earplugs and our own custom tuned speakers to give you the ultimate hearing protection and rich, immersive, crystal clear sound.
BLUETOOTH HEADPHONES: Liberate features ComforTiered replaceable tips, NeverOut 12 hour battery & fast charge, IsoTalk Mic, OSHA ear protection, crystal clear sound, & QuickDraw easy access controls.
WORK EARPHONES: Get premium sound & protection in your earbuds for work. Guardian has ANSI-certified Noise Reduction Ratings (NRR) of 27 & 29 dB and is OSHA compliant when used to OSHA regulations.
For those searching for a cost-effective option, Plugfones Liberate 2.0 earbuds are an ideal choice. Built with the needs of construction workers in mind, these headphones provide excellent sound quality, noise suppression and simple to use controls.
With up to 12 hours on one charge and rapid recharge capability included too, battery life won't be an issue either – allowing you ample time working without worrying about interruption due its IsoTalk microphone meant for making clear calls even when surrounded by loud noises since it is capable of reducing sound up to 29 decibels maximum.
These specially designed earbuds come complete with Quickdraw easy-access buttons that make them highly desirable amongst people engaged in this type of work as they allow easier access while still providing top quality features needed from such technology!
---
4. Sennheiser CX Plus – Most Comfortable
Sale
Sennheiser CX Plus
Superior sound, no compromise, powered by Sennheiser's TrueResponse transducer, personalized with the built-in equalizer and Bass Boost.Note : If the size of the earbud tips does not match the size of your ear canals or the headset is not worn properly in your ears, you may not obtain the correct sound qualities or call performance. Change the earbud tips to ones that fit more snugly in your ears.Specific uses for product : Travel,Sports and Exercise
Product Note : If the size of the earbud tips does not match the size of your ear canals or the headset is not worn properly in your ears, you may not obtain the correct sound qualities or call performance. Change the earbud tips to ones that fit more snugly in your ears
The Sennheiser CX Plus earbuds provide outstanding comfort and sound quality for any construction worker. Featuring noise cancellation and transparent hearing capabilities, these earbuds can block out loud noises from machinery or other distractions in the environment.
For superior audio experience, they offer a well-balanced and crisp sound that is sure to please even those with high expectations of what their music should be like.
Given its price point, this could be an ideal choice if one values comfort and good sound above all else when it comes to listening while working your onsite tasks.
---
5. Bose QuietComfort Earbuds 2 – Best Battery Life
Sale
Bose QuietComfort Earbuds 2
INTRODUCING QUIETCOMFORT EARBUDS II: These new wireless, bluetooth, noise cancelling earbuds from Bose weren't designed with a one-size-fits-all approach. These next-generation wireless earbuds are engineered to fit you. They intelligently personalize the noise cancellation and sound performance to uninterrupted, immersive listening wherever you are. To ensure all-day comfort and a secure fit, they come with three pairs of ear tips and three pairs of custom stability bands, so you can find the best fit for your ears. Own your uniqueness with sound and fit shaped to you.
BOSE PROPRIETARY ACTIVE NOISE CANCELLING TECHNOLOGY EARBUDS: QuietComfort Earbuds II intelligently personalize the noise cancellation and sound performance to your ears, so you can enjoy deep, immersive sound and noise cancellation.
The Bose QuietComfort Earbuds 2 is designed specifically for construction workers who prioritize battery life. Boasting the best performance in terms of power, these earbuds provide long-lasting use and guarantee excellent sound quality as well as crisp call clarity even amidst loud external noises.
With a quick charge option, these earbuds provide up to 2 hours of battery life from a 20 minute charge. Now that's impressive. And a single charge can deliver up to 6 hours while the case holds 3 additional 6 hours charges which total up to 24 hours!
One downside with this pair of earbuds may be its limited shelf life due to its popularity when compared to other options available on the market.
It still stands out among others thanks to its superior ANC feature, which ensures uninterrupted productivity without any distractions from outside noise sources when working outdoors or at a job site.
---
6. Apple AirPods Pro 2 – Best for Apple Users
Sale
Apple AirPods Pro 2
RICHER AUDIO EXPERIENCE – The Apple-designed H2 chip pushes advanced audio performance even further, resulting in smarter noise cancellation and more immersive sound. The low-distortion, custom-built driver delivers crisp, clear high notes and deep, rich bass in stunning definition. So every sound is more vivid than ever..Note : If the size of the earbud tips does not match the size of your ear canals or the headset is not worn properly in your ears, you may not obtain the correct sound qualities or call performance. Change the earbud tips to ones that fit more snugly in your ear
NEXT-LEVEL ACTIVE NOISE CANCELLATION – Up to 2x more Active Noise Cancellation than the previous AirPods Pro for dramatically less noise on your commute, or when you want to focus. Adaptive Transparency lets you comfortably hear the world around you, adjusting for intense noise—like sirens or construction—in real time.
Apple users can find the perfect companion for their devices with the Apple AirPods Pro 2. These earbuds offer an upgraded sound quality that includes boosted bass and clarity.
It has active noise cancellation to reduce any ambient noise while providing a personalized volume experience, all while enjoying extended battery life! Not only does this make listening more enjoyable, but also gives you control over audio settings by touch controls so that your music sounds just how you want it to be heard.
With these features in mind, using Apple AirPods Pro2 is without question one of the best options available if wanting unparalleled compatibility as well as superior levels of noise cancelling abilities from your device.
---
7. Anker Soundcore Life P2 – Best Budget Option
Sale
Anker Soundcore Life P2
Incredible Sound Loved by 20 Million+ People
40-Hour Playtime: Enjoy 7 hours of listening from a single charge, and extend that to 40 hours with the charging case. When you need power fast, recharge for 10 minutes and get up to 1 hour of playtime.
Superior Sound: Delivers music with a wider soundstage and exceptional accuracy and clarity. BassUp technology intensifies the low end up to 43%.
For those looking for a more cost-effective option that still offers superior noise cancellation and great audio performance, the Anker Soundcore Life P2 is an ideal choice.
With its graphene drivers providing improved responsiveness and clarity, as well as 7 hours of battery life alongside water resistance (IPX7 rating), this budget earbud makes it perfect for construction workers who need reliable sound quality but don't want to pay too much.
The economical price point combined with high quality sound and remarkable features make these earbuds hard to pass up!
---
Hearing Protection and Construction Sites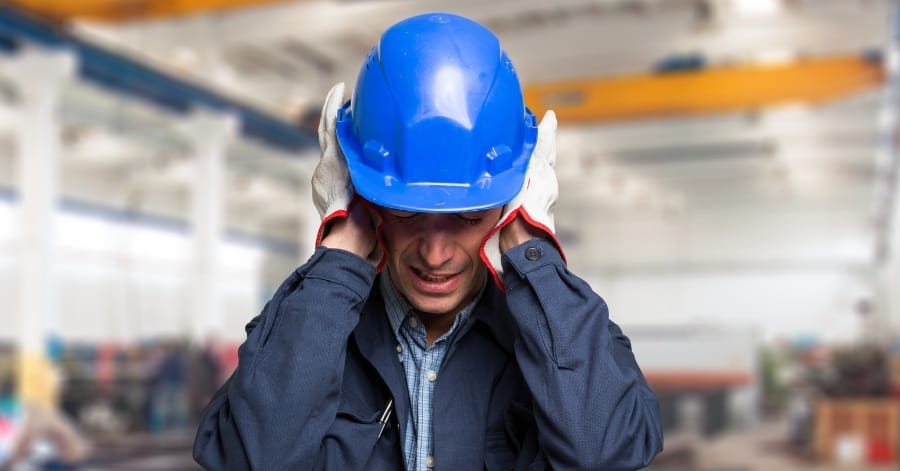 In order to reduce noise exposure and ensure proper hearing protection while at a construction site, workers should use earbuds that can cancel out loud noises.
These are more compact than traditional headphones with noise canceling capabilities which make them easier to insert into the ear openings as compared to larger models like earmuffs. Failing to wear adequate protective gear while working on-site could lead to hearing loss or even tinnitus, an often chronic condition marked by persistent ringing in the ears due to unwanted sound levels.
The Occupational Safety and Health Administration (OSHA) mandates that any worker exposed to noise levels exceeding 85 dBA, for a period of 8 hours or longer, be provided with acceptable forms of headgear offering proper noise reduction.
Earbuds have many advantages: they're smaller size makes it easy for insertion but there is risk of falling out when not secured properly.
Noise Reduction Rating (NRR)
The Noise Reduction Rating (NRR) is a system used to calculate the capacity of hearing protection tools, measured in decibels (dB), for noise reduction.
Workers at construction sites specifically require headphones with high NRRs so that they can safeguard themselves from loud noises and obtain superior sound quality for listening to music or communicating by telephone.
For adequate safeguarding, it is advised to use earbuds having an NRR rating of 25 dB or higher like the ISOtunes headphones.
Active vs. Passive Noise Cancellation
When dealing with external noises, both active noise cancellation (ANC) and passive noise cancellation (PNC) can provide effective sound reduction. ANC is a quick approach that involves built-in microphones to pick up ambient sounds around the user then creating an inverse audio signal for these background noises, especially low frequencies.
It may not be as successful in blocking higher pitched or more irregular sounds such as human speech. On the other hand, PNC eliminates high frequency volume through its design of headphones materials for straightforward but still solid results on different types of noise – perfect when working at a construction site which often requires this type of protection against certain levels of disturbance from surrounding area's environment.
It's essential to find earbuds suitable specifically for your needs so you can benefit effectively from either kind of technology available today.
Choosing the Right Earbuds for Your Needs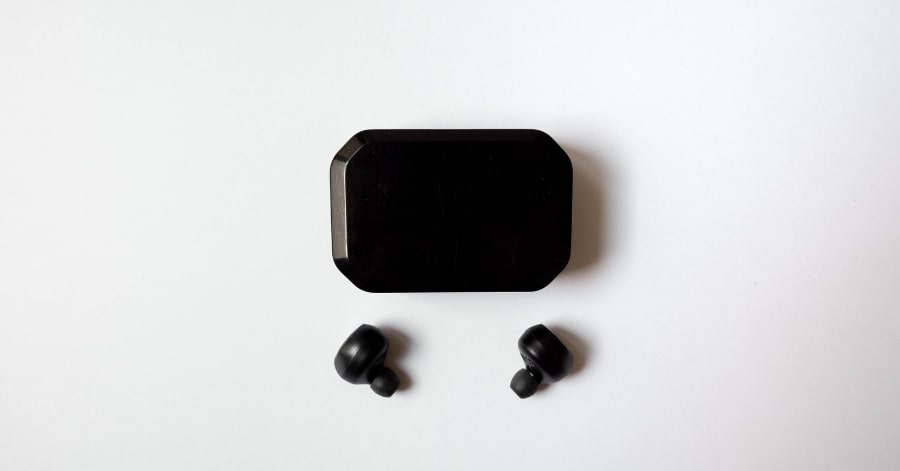 Construction workers need to take a few critical considerations into account when selecting the best earbuds for their work environment.
Durability, noise cancelling ability, comfort and price should all be taken into consideration. It is essential that they have durable headphones which will provide lasting protection from sweat, sawdust or dirt on construction sites.
Noise cancellation capabilities are important in order to limit sound levels at busy building areas so the worker can remain focused on his/her job duties effectively.
Proper fitting of the headset must ensure you have a comfortable experience over a long period of time. This is crucial for anyone working in construction environments since you have to constantly wear them throughout the day.
It's also worthwhile to give attention towards the most cost-efficient choice according to its features. You want to ensure you are obtaining the highest value given your investment.
Lastly, it is important to understand that picking the right earbud should compliment the level of noise activity your workplace will expose you to. Some earbuds have higher noise reduction ratings than others. In which case you might want some protection but not so much that you cant hear what is going on in your surroundings, such as a high traffic jobsite.
OSHA Compliance and Earbuds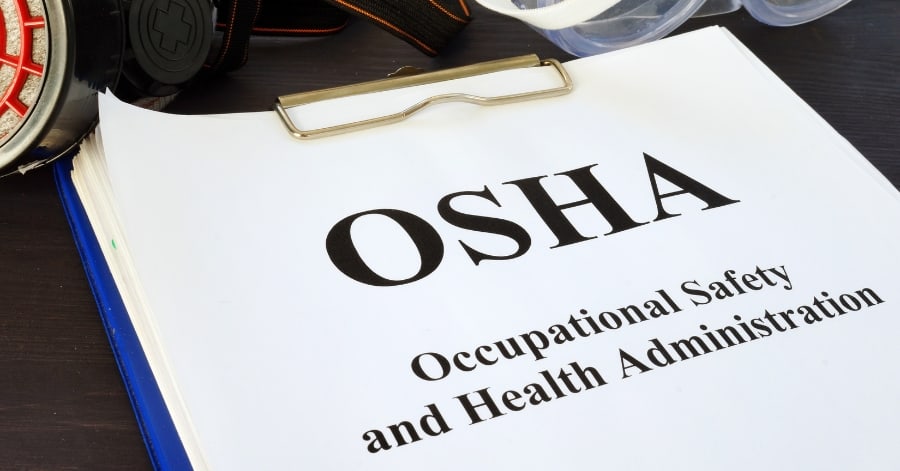 To keep workers safe, it is critical to comply with hearing protection standards in the workplace.
OSHA or Occupational Safety and Health Administration sets these regulations on acceptable noise levels at various workplaces. If the limits are exceeded, employers must take steps for safety measures including utilizing earbuds that satisfy OSHA guidelines for approval.
Again as mentioned above, OSHA mandates that any worker exposed to noise levels exceeding 85 dBA, for a period of 8 hours or longer, be provided with acceptable forms of headgear offering proper noise reduction.
It is Essential to verify that any earbud used in at a construction site meets all of the necessary OSHA requirements so that one's hearing is protected and that you abide by the workplace rules regarding safety. Again understand how much protection you will need while still being alert of your surroundings.
Final Thoughts
Construction workers can greatly benefit from selecting the ideal earbuds, which will provide them with necessary hearing protection and leave them satisfied. To make a wise decision and pick out the best possible option for your requirements as a builder it is essential to take into consideration key factors such as cost-efficiency, comfort level, noise reduction capabilities and durability of these products.
This article has equipped you with all important information on 7 great earbuds suitable for construction works in 2023. They are renowned due to their remarkable features like sound canceling ability along with impressive performance & snug fit, making sure your ears receive effective defense against loud noises! So invest in safeguarding your auditory health by choosing a top quality earbud today.